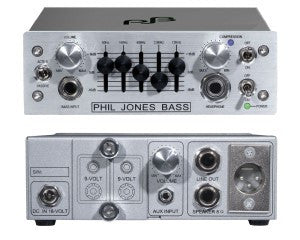 acousticbassshop
Bass Buddy- Multi-Functioned Micro Preamp. Swiss Army Knife for Bass Players.
Regular price
$ 459.99
$ 0.00
10watt RMS amp
Switchable Active/Passive input
5-band Graphic EQ
Optical Limiter
Hi-fi Stereo Headphone Output
Low Noise Pre-amp Output
World-class Studio Quality, Balanced Line Output
Stereo input and volume control for your drum machine/MP3/walkman
Can run on two 9-volt batteries or AC power
Worldwide AC voltage compatible
Dimensions: 5.35″ W x 1.75″ H x 7.3″ D
Weighs only 2 lbs
AC Voltage: 100 – 240 Volt / 50 – 60Hz
2 Year Warranty
Actually, the Bass Buddy is more than a friend; he's your inner bass guy. He is brains and brawn; definitely someone who can improve your game. No wonder people like Nathan East use the Buddy!
Built like a tank with 1/4" thick machined aluminum front and stainless steel chassis, the Bass Buddy is a direct box producing pristine pure sound and a crazy clean signal path. But there's a lot more. Active/passive input, 5 band EQ, compressor/limiter, headphone with level, input with level for drum machine or MP3 player, direct out and a speaker out which can actually power a speaker cabinet!
---